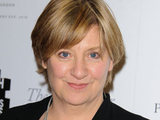 Victoria Wood
has written a new one-off drama for BBC One.
Loving Miss Hatto
follows the life of pianist Joyce Hatto and is expected to examine her relationship with her husband.
Francesca Annis and Alfred Molina have both signed up for roles in the programme, the BBC announced today.
"
Loving Miss Hatto
is a screenplay inspired by the true story of classical pianist Joyce Hatto and her husband Barrie," Wood said. "It begins with their meeting in the grey shabby London of the early '50s and ends in the 21st century in a cul-de-sac in Royston, Hertfordshire.
"This is a story of two young people with high hopes who, like most of us, get bashed in the face by life. It is, above all, a love story."
Meanwhile, the BBC's controller of drama commissioning Ben Stephenson said he was "thrilled" about the commission, adding: "As ever with Victoria, this is a wonderfully English story told with tenderness, humour and emotion. It's an extraordinary love story with a difference told on a scale you could only find on the BBC."
Loving Miss Hatto
will be filmed in Ireland.
> Read more TV news