White Heat
starts tonight, so we've got one final chat for you - it's time to meet
Jessica Gunning
, who stars in the drama as Orla!
When we visited the set of the epic BBC Two drama, Jessica had a natter with reporters about Orla, her Irish accent and being bullied by the other cast members, so read on to find out what she had to say!
> White Heat MyAnna Buring Q&A: 'Lily's dreams are crushed'> White Heat David Gyasi Q&A: 'The show is full on, explosive'What can you tell us about your character?
"My character is Orla. She's from Belfast and she's come to London to study psychology, and she moves into this house as one of the seven. I suppose in the first episode she's quite naïve about the world, in the sense that she wants it to be perfect. And I think a lot happens that changes that view for her.
"She's quite a pleaser - she wants everybody to like her and she tries to fix things. She's often the one that's cooking the food or fixing everyone's problems in the beginning. She doesn't like to be the centre of attention - she likes to kind of get on with things but doesn't really talk about her own problems. She probably regrets that in the future, I would say. But that's kind of who she is at the off."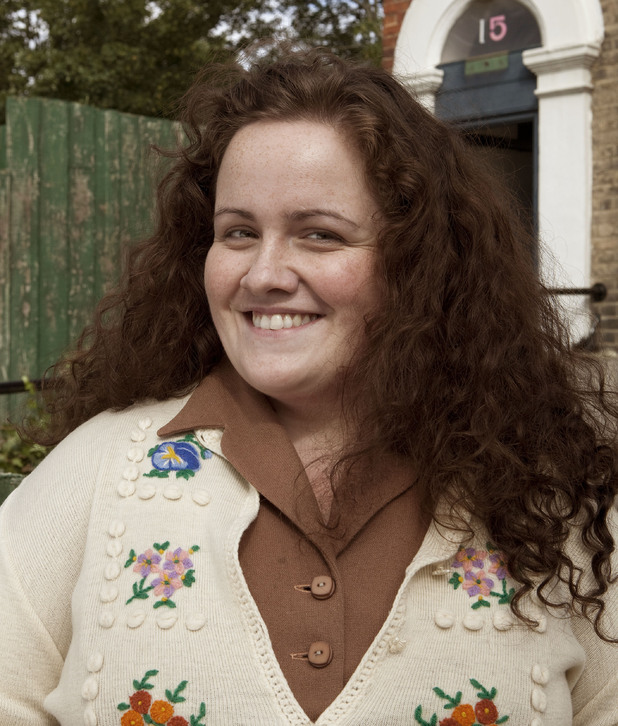 > White Heat Claire Foy, Sam Claflin Q&A: 'It's an emotional journey'What are her problems?
"There's lots that happens to her in the sense that I think her reality of the world is sometimes changed by people who let her down in a way, or change her expectations of things.
"She's got quite a close friendship with Jay in the household and that changes because of a revelation that happens with him. So lots changes in her view of what she would like - so not problems in that sense, but just events that happen that change her outlook."
Is she taken advantage of?
"Very much so, I would say. Yeah. And I don't think that they really realise that they're doing it because if the other characters were asked what they think of Orla they'd say, 'Oh, she's great!' They're so in their own worlds that they kind of forget to go into her world a little bit.
"But that's her own fault as well in the sense that she doesn't say, 'I need help'. That's a recurring theme with her really."
What are you filming today?
"Something happens with my character's brother and it's the aftermath of that. I have to make a decision based on him and also the six other characters so it's the aftermath of that decision today. We're in the '70s."
What's been your favourite decade?
"We've done the bulk of the '60s and we're moving into the '70s now. The outside location shots we've done a few of. I quite like the '80s and also this era, because she wears a lot of colourful kaftans. I feel a bit brighter because she's a bit dowdy at first.
"What we're in now is quite an exciting time and the parties are quite good, because we have a New Year's Eve party which was quite colourful. It was quite cool in the '70s to see that."
What's it like getting all the different make-up and prosthetics?
"My character doesn't really wear any make-up. The other two girls look gorgeous and she's just there... it doesn't take me long in the make-up truck in the morning! Later on it's really weird when you see yourself with wrinkles. They do this speckling thing which adds lines under the eyes.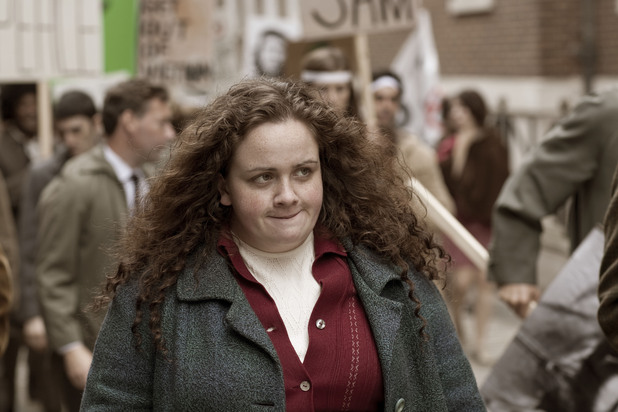 > White Heat Reece Ritchie Q&A: 'Parties were cooler in the 60s'
"We only go up to 43 so we don't look too old, and we don't need a lot of prosthetics, but just hints I think are quite good. It's almost like PVA glue in a way - you smile and then it feels quite tight, just to freeze those wrinkles. It's really weird. When you see all seven of us together - we've done a pub scene when we're all together and that was really strange to see everybody."
What's it like having someone play an older version of your character?
"It's Sorcha Cusack who's playing the older Orla. It's great, we only spoke on the phone but it's great to know she'll be taking on the old pattern of that. Really nice. It's a great cast - it's just people I've admired for all my life, really. I'm really excited about it."
You mentioned that Orla came over from Ireland - how's the accent going?
"It's going okay! I think it's quite a hard accent to do - I've never worked with that before. But I've read a few books and we had a vocal coach come in and help with some of the accents because obviously we want to keep the world as realistic as possible. It's quite difficult because everyone, with the Northern Irish accent they say the stereotypical 'how now brown cow'. But hopefully it's going alright.
"I've got a scene with Andrew Simpson, who plays my brother. He's actually from Northern Ireland, so that's really great and helpful to act opposite him because it brings out my accent a bit more. He actually said on the read through - get this! - he said, 'Whereabouts in Northern Ireland are you from?' That was quite nice!"
> White Heat Lee Ingleby Q&A: 'It's almost like a Shakespeare play'What kind of storylines are ahead for Orla? Is there any romance?
"She has a bit of a romance, but it's unrequited. So that's one thing. She has lots to do with all the other characters, really. And then she has something else that's a family plot line, but that's a bit later on, in episode three.
"To start off, it's just literally with everyone else in the house. And Jay, mainly - she's very close to Jay. They develop quite a strong friendship throughout. The girls as well - she really looks up to the girls in the house. I think they have a big influence on her life, in the future as well."
What's the dynamic like between the seven of you actors in real life?
"I quite like having a bit of a joke. We joke in character as well - when we have to clear things up we always joke that I should clear up because Orla's always the washer upper. I'm being bullied - help! We all have a bit of a laugh actually.
"It's quite nice in the seven, though it makes me nervous because I worry that we'll giggle when we're filming. We've been alright up to now. But the seven of us, we have a bit of a laugh. It's nice."
White Heat begins tonight (March 8) at 9pm on BBC Two.