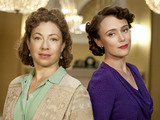 Wild at Heart
's series seven finale attracted a total of nearly 6.6 million last night (Sunday), overnight data indicates.
The South Africa-based family drama, starring
Stephen Tompkinson
and Jill Halfpenny, attracted 6.38m (23%) to ITV1 between 8.30pm and 9.30pm, and a further 187k (0.8%) on +1.
ITV's long-running show, which is
rumoured to be facing the axe due to falling ratings
, hasn't hit an audience of over 6.6m
since January
.
Wild at Heart
suffered its biggest dip last month when scheduled mid-series against BBC juggernauts
Call the Midwife
and
Sherlock
.
Affected by the half-hour clash,
Upstairs, Downstairs
slumped to 4.77m (17.9%) on BBC One in the 9pm hour, its lowest audience so far.
Dependable duo
Countryfile
(6.31m/25.6%) and
Antiques Roadshow
(6.28m/22.3%) held up well against
Dancing on Ice
, which delivered 7.22m (27.4%) to ITV1 from 7.15pm (+1: 255k/0.9%).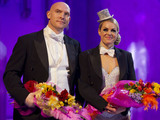 At 9.30pm, 6.14m (23.4%) returned for
The Skate Off
as Chemmy Alcott
was voted out
. Adding the 162k (1%) watching on ITV1 +1, the results show saw a 300k
week-on-week
increase.
A 6.40pm repeat of
Harry Hill's TV Burp
was caught by 3.68m (17%) and 174k (0.6%) on +1.
Elsewhere,
Top Gear
bowed out with 5.05m (17.9%) for BBC Two at 8pm, then 2.78m (10.5%) stayed on the channel for
Orbit
at 9pm, and a solid night's work was capped by
Match of the Day 2
's 3.21m (18.1%) at 10pm.
Meanwhile,
Homeland
's incredible resilience continued, drawing 2.01m (7.6%) at 9pm (+1: 271k/1.5%). A
Time Team
special could only muster 894k (3.2%) an hour earlier, adding 226k (0.9%) on Channel 4 +1.
Early evening film
Men in Black II
grabbed Channel 5's best audience of the night, with 1.6m (7%) from 6.20pm (+1: 135k/0.5%), after which 695k (2.5%) watched
Big Body Squad
at 8pm. 9pm movie
Layercake
took 1.01m (4.6%).
Overall, ITV1 retained its lead in primetime with 21.2% (+1: 0.8%), ahead of BBC One's 20.6%, BBC Two's 11.9%, Channel 5's 4.7% (+1: 0.3%) and Channel 4's 4.5% (+1: 0.8%).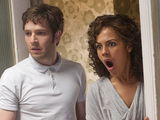 On the multichannels, BBC Three's latest
Being Human
claimed 783k (2.9%),
Desperate Housewives
fetched 646k (2.4%), and a repeat of ITV's
Benidorm
on ITV2 amused 569k (2.1%) and 188k (1%) on timeshift.
More4's screening of
Crufts 2012
entertained 661k (2.6%) dog lovers.
BARB ratings data supplied by Attentional