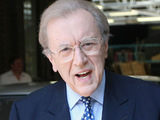 Sir
David Frost
has explained how he prefers to get the best out of a television interview.
The legendary broadcaster - who returns to the BBC in a new special about the art of the interview tonight (March 13) - revealed that a relaxed chat can often lead to "fruitful" results.
"Body language starts it," he told
BBC Breakfast
. "One does try to relax people. In general if you relax someone, and put a difficult question in a relaxed way, it's often more fruitful.
"When someone comes up with something revealing, you want them to carry on talking about it."
He added that the use of silence in interviews can be important, especially if it reveals something about the guest.
"Once I was interviewing [presidential candidate] Michael Dukakis. He took at one stage 29 seconds to answer a question, and it wasn't a very difficult question."
The presenter will front
Frost on Interviews
, featuring contributions from the likes of Stephen Fry and Alistair Campbell, tonight on BBC Four at 9pm.
Frost had previously said of the programme: "Over the last half-century the television interview has given us some of TV's most heart-stopping and memorable moments.
"On the surface it is a simple format – two people sitting across from one another having a conversation. But underneath it is often a power struggle – a battle for the psychological advantage."
> David Frost 'gave Piers Morgan advice'