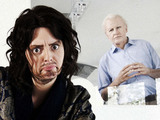 Channel 4's new comedy series
VIP
is hoping to revolutionise impression shows, bringing them into the 21st century and skewering our favourite (and most hated) celebs at the same time.
Everyone from
Natalie Cassidy
to Adele and Liam Gallagher to President Obama are ripe for a comedy kicking by cheeky duo Morgana Robinson and Terry Mynott.
"
VIP
's hugely talented cast of new faces have managed to capture the quirks of dozens of modern celebrities. Filming a topical section each week also means we'll be perfectly placed to keep up with the pace of the celebrity merry-go-round and no-one will escape our gaze," said Fiona McDermott, commissioning editor at Channel 4.
"The results make for a brilliantly original and most importantly very funny show indeed. Celebrities beware!"
Very Important People
starts on Friday, April 27 on Channel 4.
> More TV News
Watch a preview clip of the show below: