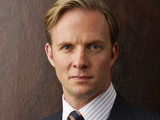 Silk
star Rupert Penry-Jones has said that his character Clive Reader is not concerned with morals.
The actor explained that his alter ego gets less emotionally involved with clients than romantic interest Martha Costello (Maxine Peake).
"[
Silk
is] about normal people dealing with exceptional situations," he said. "You get everyday people doing their jobs, working with people who are murderers, you know, shaking hands with a murderer.
"It's Martha that seems to have these sort of moral dilemmas really. I don't think Clive really worries about the morals - his job is to do the best thing for his client."
On how Clive's relationship with Martha will progress in the
new series
, Penry-Jones explained: "They confide in each other and I think Clive will always confide in Martha before anybody else, but at the moment Martha is more of a friend or sister.
"They stand up for each other and they still like being with each other. But who knows, they might have another night together one day… Clive definitely still holds a torch for her."
Silk
returns May 8 on BBC One.
> Rupert Penry-Jones 'tired of posh roles'