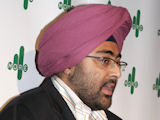 Hardeep Singh Kohli
has claimed that he was "shafted" by his boss after a complaint was made about his behaviour at the BBC.
The broadcaster was
suspended from The One Show for six months
in July 2009 after being accused of behaving inappropriately towards a female colleague.
He has rarely been on TV since, though has made series for BBC's Radio 2 and Radio 4 and toured the country with his
Chat Masala
show.
"It was an individual in this case who felt sufficiently wronged to make an informal complaint to my editor," Kohli told the
Evening Standard
.
"It was the
same person who complained about
Carol Thatcher; it was the same person who made a formal complaint about the deputy editor of The One Show. It just so happens there are coincidences.

"When you look to see what the newspapers had got hold of, that information could only have come from one place, right at the heart of the BBC. I was shafted by my own boss. I can't quite understand what I did to deserve that."

He added: "It would be much easier for me to defend myself if my behaviour on the programme had been faultless. It hadn't.

"I'm an arse. I say stupid things. Quite a lot of the time I thought I was being funny. Quite a lot of the time I was being funny."

Kohli continued: "What I found most disappointing about The One Show debacle was that far worse had happened yet individuals were backed.

"No-one was protecting me. The BBC hung me out to dry and still do so. It's astonishing that certain individuals are caught on camera taking cocaine and are now working all over the BBC."