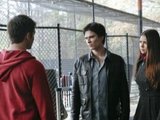 Vampire Diaries
remains a solid performer as it drew more than 500,000 viewers last night, according to overnight data.
The episode '
Heart of Darkness
' attracted 358k (1.6%) from 9pm on ITV2 before picking up a further 147k (0.9%) on timeshift.
Elsewhere on the multichannels,
Touch
took 341k (1.5%) on Sky1, and
Mad Men
had 50k (0.2%) on Sky Atlantic.
The terrestrials saw
Crimewatch
dominate the 9pm hour with 4.61m (20.7%).
On ITV1,
The Hunt for Bin Laden
averaged 2.2m (11%) with an additional 205k (1.5%) on +1. Earlier,
William and Kate: The First Year
grabbed 3.84m (16.8%) from 8pm (+1: 405k/1.8%).
BBC Two showed
Hairy Bikers' Bake-ation
(2.7m/11.8%) and
Meet the Romans with Mary Beard
(1.88m/8.4%).
On Channel 4,
Supersize v Superskinny
was watched by 1.43m (6.3%) from 8pm (+1: 275k/1.2%).
Hidden Talent
followed with 1.06m (4.8%) and 182k (1.1%) on timeshift.
CSI
continued to impress for Channel 5 with 1.81m (8.1%) and 160k (0.9%) on +1.
CSI: NY
managed 1.22m (7%) in the 10pm hour, and
War Hero in My Family
managed 1.03m (4.5%) earlier from 8pm.
Overall, BBC One came out on top in primetime with 24.1% ahead of ITV1's 15.3% (+1: 0.9%). BBC Two took 7.9%, with Channel 5's 5.4% (+1: 0.3%) beating Channel 4's 4.4% (+1: 0.9%).
BARB ratings data supplied by Attentional