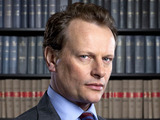 BBC One continues to dominate Tuesday nights thanks largely to 9pm's
Silk
, overnight data has shown.
Despite the sunny weather, episode two of the legal drama's second series mustered 5.3m (23.8%) in the 9pm hour, an audience far superior to any other channel at that time.
Meanwhile, ITV1's lineup performed extremely poorly, with a repeat of
Martin Clunes: Horsepower
scraping 1.28m (6.5%) at 8pm (+1: 116k), and
Dirty Britain
interesting 2.54m (10.6%) at 9pm (+1: 259k).
The Chelsea Flower Show brought 2.84m (14.3%) to BBC Two in the 8pm hour, after which the documentary series following Great Ormond Street Hospital had 1.82m (8.1%) an hour later.
Channel 4's
Embarrassing Bodies
dipped to 1.67m (8.4%) at 8pm (+1: 270k), then the audience dropped further to 760k (3.4%) for
Hidden Talent
at 9pm (+1: 153k), but the network rebounded for
My Big Fat Fetish
, which opened with 1.75m (10.8%) at 10pm (+1: 186k).
Dependable crime franchise
CSI
lit up Channel 5's schedule with 1.56m (6.9%) at 9pm (+1: 189k) and 1.1m (6.4%) for
CSI: NY
at 10pm (+1: 106k).
BBC One averaged double ITV1's overall primetime average with 24% against 12% (+1: 0.8%). BBC Two claimed third place with 8.4%, followed by Channel 4 with 6.2% (+1: 0.9%), and Channel 5 with 4.8% (+1: 0.4%).
BBC Three's live coverage of the Eurovision Song Contest's first semi-final pulled in 745k (3.3%) between 8pm and 10pm.
BARB ratings data supplied by Attentional