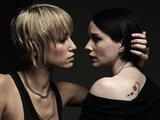 Lip Service
's series two conclusion was seen by less than 240,000 viewers last night (Friday), overnight data reveals.
The BBC Three lesbian drama's 239k (1.2%) in the 9pm hour is a third of the audience it attracted for its first series aired late on Tuesday nights in 2010.
However, BBC Three was still the joint most-watched multichannel station, thanks to
Russell Howard's Good News Extra
(611k/4.2%) at 10.30pm.
Piers Morgan's Life Stories
ended another run with 3.93m (19.1%) in the 9pm hour with 235k on +1, staying behind BBC One's
Have I Got News For You
(4.41m/21.1%) but overpowering a repeat of
Michael McIntyre's Comedy Roadshow
(3.08m/15.2%).
Elsewhere on BBC One,
Would I Lie To You?
amused 2.73m (13.5%) at 8.30pm, while 3.29m (23%) watched
Graham Norton
at 10.35pm.
Poms in Paradise
grabbed 2.74m (14.7%) for ITV1 at 8pm (+1: 156k).
Over on BBC Two,
Episodes
rallied over 100k
week-on-week
to 1.1m (6%) at 10pm, prior to which the launch of factual series
The Great British Story: A People's History
interested 1.53m (7.4%). Chelsea Flower show coverage was seen by 1.96m (10%) in the 8pm hour.
Comedian Alan Carr anchored Channel 4's schedule with
Chatty Man
, which entertained 1.48m (7.5%) at 10pm and 200k on timeshift. Meanwhile,
8 Out of 10 Cats
drew 956k (4.5%) at 9pm (+1: 302k) and
Very Important People
continued with 744k (3.7%) at 9.30pm (+1: 103k).
The Mentalist
pulled in 1.24m (6.2%) to Channel 5 at 9pm, then 847k (4.9%) stuck with the Richard Desmond network for
Castle
.
Overall, ITV1 won primetime with 22.9% (+1: 0.8%), ahead of BBC One's 20%. BBC Two grabbed third place with 7.1%, followed by Channel 4's 4.8% (+1: 0.9%), and Channel 5's 4.2% (+1: 0.2%).
> Click here for today's ratings for Friday's soaps
BARB ratings data supplied by Attentional