UKTV's Gold channel has been warned by Ofcom for airing an episode of
Gavin & Stacey
at 10am.
The broadcaster edited the
James Corden
and Ruth Jones sitcom, which originally aired post-9pm on BBC Three in 2007, taking out strong language and sex noises.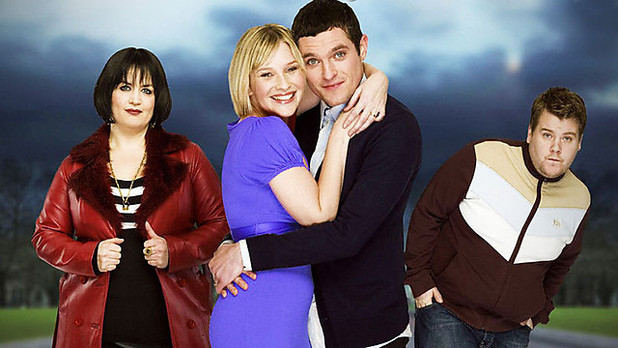 However, viewers still complained to Ofcom in February about the rerun's sexually suggestive content.
Viewers' complaints centred on lines such as "I hopes you hungry big boy", "You got any johnnies? I ain't going in there bareback" and "Don't go giving him nothing on the first night... well not nothing... a kiss, a cuddle, a cheeky finger - just don't go selling him the whole farm".
The episode also featured Corden flashing his buttocks in a red lacy thong and language such as "bloody", "s**t", "takes the piss", "pr*ck" and "bugger".
Ofcom ruled: "The overall tone and cumulative impact of the sexual language and references throughout the programme resulted in this material being of a more adult nature and which made this episode unsuitable for scheduling on a Saturday morning.
"The programme included a number of sexual references which were not necessarily sexually explicit but, in Ofcom's view, clearly exceeded comic innuendo and were aimed at a more adult audience.
"The programme included the frequent use of offensive language. This (taken together with the sexual themes and references) underlined that, despite the edits to the original programme, it still contained a considerable amount of content of an adult audience."
Gold has commented on the ruling, insisting that it did everything it could to leave only "mild language and light, oblique sexual references".
Watch a clip from
Gavin & Stacey
below: