8
TV News
Tom Daley's Olympics diving effort seen by 6.2m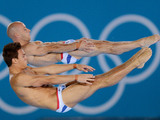 Team GB's valiant attempt to win a medal in the synchronised diving was seen by at least 6.2m yesterday (Monday, July 30).
Tom Daley
and Peter Waterfield, who topped the table after the first few dives, eventually finished in fourth place.
BBC One attracted an average audience of 3.82m (37.3%) between 1.45pm and 4pm, while the channel managed a peak share of 52%.
Then from 4pm, Britain's unexpected bronze in the mens' gymnastics was witnessed by 4.83m (35.1%), before 6.37m (27%) watched swimming from the Aquatics Centre.
Zara Phillips's involvement in the cross-country stage of the equestrian competition pulled in 1.7m (21.8%) between 11.45am and 1pm. Some 2.17m (32.1%) tuned in for rowing from 9am.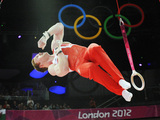 Olympic Breakfast
(1.54m/39.4%) and
Olympics Tonight
(2.34m/20.8%) continued to pick up solid figures at 6am and 10.35pm respectively.
BBC Three's wall-to-wall coverage mustered a strong set of ratings, with 1.03m (7.7%) from 2pm and 1.15m (5.2%) between 7pm and 11pm.
More people watched the BBC's coverage online, with the corporation
posting record figures for its website and iPlayer yesterday
.
> London 2012: Today's Olympics TV Guide - Tuesday, July 31
> Olympics London 2012 TV Guide: Week Two
BARB ratings data supplied by Attentional