Keith Lemon
's new spoof fly-on-the-wall show
Lemon La Vida Loca
opened with over a million viewers last night (Thursday, August 2).
Focusing on the life of Leigh Francis's character, the behind-the-scenes mockumentary pulled in 920k (4.6%) on ITV2 at 10pm and 120k (1.1%) on +1.
Lemon La Vida Loca
was the second most-watched multichannel programme, behind a classic episode of
Lewis
which had 935k (4.5%) on ITV3.
As expected, BBC One dominated peak time with its Olympics coverage, with its 7 to 10pm programme - compiling various swimming events - averaging 7.59m (33%).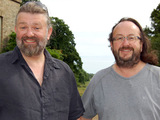 Over on BBC Two,
Hairy Dieters: How to Love Food and Lose Weight
launched with an impressive 2.43m (10%) in the 8pm hour, benefiting from its
lead-in from EastEnders
.
Amish: A Secret Life
followed with a decent 2.01m (8.7%), just losing out to ITV1's law documentary
The Briefs
, which mustered 2.12m (9.2%) and 198k (1.1%) on timeshift.
The Hotel Inspector
anchored Channel 5's schedule with 1.3m (5.6%) in its 9pm slot, then 1.19m (6.3%) watched Big Brother.
Meanwhile,
Embarrassing Bodies
was Channel 4's best-rated broadcast with just 1.01m (4.4%) and 198k (1.1%), prior to which David Starkey's
Churchill
could only manage 531k (2.2%) at 8pm.
BBC One thrashed ITV1 in primetime with 31.3% versus 14.4% (+1: 0.6%). BBC Two claimed third place with 10.6%, way ahead of Channel 5's 4% (+1: 0.2%). Channel 4 finished last with a very low 2.9% (+1: 0.5%).
BARB ratings data supplied by Attentional