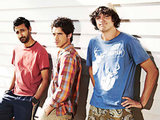 Beaver Falls
is back - the E4 comedy-drama returns to our screens on Monday, August 6 at 10pm. All your favourites are back, plus a few new faces too!
Digital Spy
met up with the show's stars - who were in the midst of a hard-fought softball game - and presented them with our amazing mitt of questions.
Watch our exclusive video below to find out which of the cast is most similar to their character, what they made of the reaction to series one and, if you're very good, there might even be a few teasers for series two lurking within too...
> Beaver Falls exclusive behind-the-scenes video with cast and crew
> Beaver Falls series two trailer unveiled by E4 - watch
> Beaver Falls series two: First look pictures