0
TV News
Charlie Brooker confirms 'Wipe' franchise will continue in "new form"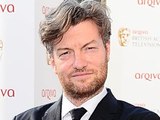 Charlie Brooker
has confirmed that his BBC Four
Wipe
strand of programming will continue.
Speaking at the Edinburgh TV Festival, Brooker suggested to
The Guardian
that the franchise will continue with broader specials like
2011 Wipe
.
"The
Wipe
franchise is going to return in a slightly new form - beyond news, beyond screen, beyond games," he announced.
"I think it'll be a kind of omni-wipe," the star further teased. "It's like an Emperor Dalek, it combines all the best and all the worst of all the different
Wipe
s we've done, hopefully all in one."
His comments could also suggest that he is planning a compilation special featuring classic moments from the shows.
Screenwipe
aired for five series, after which two runs of
Newswipe
and a one-off
Gameswipe
were made. Brooker hasn't committed to a full series since 2010.
He was promoting his new Sky1 crime spoof
A Touch of Cloth
, which concluded tonight (August 27).