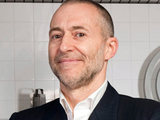 Food and Drink
is due to return on the BBC next year.
MasterChef
star
Michel Roux Jr
will host the new version, which will return to BBC Two for six episodes in 2013.
The original series ran on BBC Two from 1982 to 2001. Simon Bates, Jilly Goolden, Oz Clarke and Michael Barry were among the stars of the first run.
The BBC stated that Roux Jr will help viewers take on recipes with a host of celebrity chefs, while also examining food trends, consumer issues and other debates and discussions.
"It is an honour to be involved in the exciting re-launch of
Food and Drink
," said Roux Jr.
"The original programme inspired many and with Britain's appreciation for good food having grown so much in the last 30 years, I am looking forward to exploring fantastic food and drink with old and new friends."
Janice Hadlow, controller of BBC Two, said: "I'm delighted to be able to announce the return of such a fondly remembered programme, and I look forward to seeing what Michel and his guests serve up for a new generation of foodies."
Liam Keelan, controller of daytime and early peak, added: "It's great to see the return of one of the most iconic food programmes to our screens. Given the show's heritage and importance to anyone with a passion for food, we could only ever see Michel Roux Jr fronting it, so it's fantastic to have him as the host."
On what viewers can expect in the show, Roux Jr added: "I will be cooking up some classics, like my signature Soufflé Suissesse which will reflect the programme's heritage. There will be lots of new and exciting recipes and ingredients for viewers to try at home and some surprising modern twists to traditional dishes.
"There is nothing I am more passionate about than excellent food and drink and I am excited to embark on this culinary journey."
Two-star Michelin chef Michel Roux Jr has previously appeared on Gordon Ramsay's
Hell's Kitchen
,
MasterChef
,
Junior Bake-Off
and
The Apprentice
.