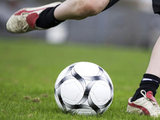 England's match against Ukraine was watched by more than 5.5 million on Tuesday (September 11).
Coverage of the game, which ended in a 1-1 draw, averaged 5.59m (4.5%).
On BBC One,
Panorama
drew 3.25m (13.9%) in the 9pm hour.
BBC Two's
The Great British Bake Off
won 3.98m (16.7%) with
Vikings
getting 1.99m (8.5%) afterwards.
Channel 4's
Double Your House for Half the Money
picked up 1.37m (5.7%) from 8pm (+1: 226k/1%) and
One Born Every Minute
was watched by 2.05m (8.8%) from 9pm (+1: 358k/2.2%).
Lastly on the terrestrials, US import
Person of Interest
continued with 936k (4%) and 176k (1.1%) on timeshift, with
Revealed
getting 917k (3.8%) earlier from 8pm.
Overall, ITV1's 23.2% (+1: 0.5%) was enough to secure primetime victory ahead of BBC One's 20.2%. BBC Two came third with 10.2%, beating Channel 4's 5.9% (+1: 0.9%) and Channel 5's 3.5% (+1: 0.3%).
On the multichannels, sitcom episodes of
New Girl
and
Suburgatory
earned 490k (2.1%) and 332k (1.4%) respectively in the 9pm hour.
BARB ratings data supplied by Attentional