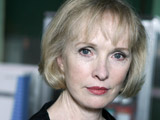 Lindsay Duncan
has been cast as Margaret Thatcher in a BBC drama about the former prime minister.
The BBC Two show, titled
Margaret
, will focus on the final year of Thatcher's leadership which ended in her resignation.
Robert Cooper of Great Meadow Productions, which is producing the drama, said: "Love her or loathe her, we all live in Margaret Thatcher's Britain. Yet, despite her 11 years at the top, very few of us really know the woman who so utterly changed our lives."
The 57-year-old Duncan has previously appeared in
Spooks
,
Rome
and Stephen Poliakoff's
Shooting The Past
.
Great Meadow Productions is also working on a comedy drama about Thatcher's younger years for BBC Four.