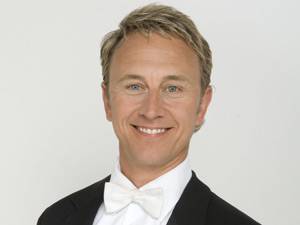 Technically, we may be in the heart of
Britain's Got Talent
season, but we don't have boundaries when it comes to our favourite shows on
Reality Bites
. So when we were offered the chance to chat with
Strictly Come Dancing
's most flamboyant star
Ian Waite
, we jumped at the opportunity! Currently on the 'Professionals' tour in Wales, we caught up with the dancer for a chat about all things ballroom.
How has the 'Professionals' tour been going?
"It's obviously very exciting because this is the fist pro tour for us. Working with the other pros is always very exciting. But to actually be dancing a theatre tour this time is even more exciting. We've done the arena tours, but with the theatres it's all new and very full on. It's a really exciting show and there's lots of variety. There are some of the best dancers you will ever see. Vincent and Flavia's Argentine tango, Brian and Kristina's salsa, James and Ola doing the rumba - there are some amazing performances."
Is it nice to now be selling out shows without the celebrities?
"We knew over the last few years that we were getting more and more fans. But it is lovely to get out there in front of the people who are supporting us. It's incredible to find out how many people are not only voting for the celebrity on the show, but are also voting for us dancers. It's a nice way of getting to see that appreciation. Before this we could only see it in cards we were being sent and on things like the
Digital Spy
forums."
Do all the professionals get along backstage?
"Years ago when we all started
Strictly
it was quite difficult. Because we were all competitive ballroom dancers, we were all very keen to beat each other. We had never worked with fellow dancers before. But through the development of the show, we saw each other more and began to work with each other more. That was when we started to bond, because sometimes you only have a couple of hours to work on a routine, and it needed everyone to be at their best for it to work. We are all great mates now, there's lots of weddings happening and we all get invited. It's a very close knit group of friends."
Last year you had to pull out of Strictly because Jade Johnson was injured. How upsetting was that for you personally?
"It was upsetting for me personally because I've come so close a few times now. To get close and not come away with the prize it is so disappointing. With Jade, I was particularly upset because she was just beginning to turn the corner. She has just figured out what the show was all about. She had just discovered a new elegance and the woman inside. It was such a shame that it was cut short. Nobody ever wants an injury to take them out of the competition."
Most people thought she would definitely make the final. Do you agree?
"That's what I thought. Whether we could have won or not, I don't know. Chris was so good and was so popular, he's such a lovely guy, it would have been tough. I think with his popularity, it would have been difficult to catch him. But I know the competitive side of Jade would have danced her heart out and she could have definitely danced better the further she got on the show. But there's not a lot you can say. It's such a shame and really sad for Jade. For me at least, there should be another year."
There's been lots of talk in the press about the show being revamped and getting rid of certain dancers. Do you think the show needs a facelift?
"I think that it does need a revamp. I think there are lots of things that we can change just to make it look fresh and exciting. I do think we have some amazing dancers, so it would be a shame to drop any of them. And I think the judges are brilliant, so it would be a shame to lose any of them. And I think the audiences love their judges and dancers. It would be difficult to drop someone without upsetting people. But I do think the look of the show could change visually. And who knows, I love Bruce Forsyth, but one day he won't be able to do it. I just hope he carries on for as long as he can. We'll just have to wait and see. With this new producer on board, we may see some amazing changes."
It has been suggested that they could film the whole series from Blackpool? Would you like that?
"The thing is with Blackpool is that it looks amazing, but there are logistical problems with it. The venue is not the most practical and there isn't much room backstage. But it was amazing last year and I think it boosted the show last year. It felt like a milestone when you got to that stage. It's an amazing place to dance because of all its history. The professional dancers have been performing there since we were kids, so it feels like home."
Is it frustrating to have the professionals careers being talked about in the tabloid press?
"It is slightly frustrating because we give up everything for this show. We give all our time and energy to it. Especially during the time that it's on air. When we're on tour and on the show, I don't do anything else. My entire life and diary revolves around
Strictly
. So not knowing if you have got a job is frustrating. But at the same time, there's not a lot we can do about it. We just have to carry on being as good as we can be."
Do you have a wishlist of future celebrity partners?
"I used to do that. But now I just leave it in the producers' hands. Because sometimes you can have an ideal partner and then they turn out to not be so ideal for you. I trust the producers to get it right. But I would like someone a little bit smaller this year. I've been getting girls over six foot, and I wouldn't have changed them for the world, but being realistic I need someone smaller to win the show. Someone around Zoe Ball or Denise Lewis's height is ideal for some great lifts. If I had a wishlist, I would just say someone young, gorgeous and five foot nine!"
Has there ever been a celebrity on the show that you really wish that you had been partnered with?
"I must say that when Lisa Snowdon was on the show, I was rather gutted that I didn't get her. I knew that she was tall and when I heard her name rumoured, I was keeping my fingers crossed for her. I know her as a person and she's great fun. And obviously Alesha would have been lovely to dance with, but I think everyone would say that."
The Strictly 'Professionals' tour will visit Leicester, Southampton, Edinburgh, London and many more cities during the summer. Visit www.strictlycomedancingprotour.com for ticket and venue details