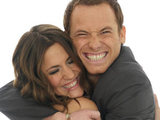 Joe Swash
and Caroline Flack are normally found in a certain Australian jungle talking to weary
I'm A Celebrity
rejects, but tomorrow night they're trying their hand at something else - dancing! The duo are one of the celebrity acts competing in the final heat of
Let's Dance For Comic Relief
, so we caught up with them to discuss their arguments, their signature moves and Joe's bottom...
Are you feeling nervous about your performance?Joe:
"Yeah, I am a little bit. Every time I start to think about it, my heart starts to race. I've got palpitations and s**t, seriously. I'm just pleased Saturday's come round and we can just get it done now."
Caroline:
"I'm excited. Really excited."
Joe:
"Because you can dance, that's why!"
Caroline:
"It's just going to be brilliant. I'm never going to get to do this again in my life - learn to do a dance on telly, a really fun dance. It's for Comic Relief. I think it's brilliant. It's really fun just being here at rehearsals as well."
Joe:
"But deep down at the bottom of my heart I haven't thought about Saturday so I'm going to be really scared when we're about to go on. Really scared. I might even have a little piddle in my pants."
Why did you agree to take part?Joe:
"Because Caroline was doing it and it just sounded like a great idea to get on her nerves a little bit more!"
Caroline:
"And boy, did it work!"
Joe:
"No, it was nice to do it together. I wouldn't have done it on my own, no way."
Caroline:
"Yeah, I don't think I would have done it on my own. And because I think we'd spent three months together in the jungle it was nice to catch up on old times. But the thing is, our dance isn't that funny!"
Joe:
"Our dance ain't funny and we're not good! We're in the middle of nowhere."
Caroline:
"We're trying to find an angle. We're still trying to find that angle that we're going with at the moment. It is a fun dance."
Can you tell us anything about your routine?Joe:
"We can't because they're really strict about keeping the songs secret. If it were down to me, I'd tell you. I'd tell you everybody's!"
Caroline:
"It's something quite up to date, we can say that."
Joe:
"Yeah, it's a modern song."
Are there any moves we should watch out for?Joe:
"Caroline's got a few good moves."
Caroline:
"There's a particular move that's kind of a..."
Joe:
"Signature."
Caroline:
"Yeah, a signature move to the song. You'll all be able to join in with that particular move. It's the 'Macarena'! No, not really. We could have done that. That would have been easier! We're thinking of other dances now."
Are you starting to have regrets?Caroline:
"Yeah, little ones! We actually wanted to do
Mary Poppins
' 'Step In Time' but we weren't allowed to do it because we couldn't get clearance."
Joe:
"Which was a bit of a shame! But I don't regret doing it because it's a great cause and as soon as they asked us you want to be involved in it. It's not until now that you start to think, 'S**t, it's tomorrow and I've got to do it and I'm really scared'. Once I get it out of the way tomorrow I'll be chuffed again because I won't be so stressed. But Caroline's so good, she's really, really good. I don't know if she's good or if I make her look good because I'm so bad! But she does look pretty good in the rehearsal room."
Caroline:
"He's always putting himself down. He's switching it on for the cameras! That's what he does."
Joe:
"Honestly, I've got two left feet."
Do you want to get through to the final? If you do, you'll have to perform again.Joe:
"You know what? I kind of don't."
Caroline:
"Yesterday me and Joe took about half an hour out of rehearsals and just sneaked round and spied on everyone's dances, and we've seen the standard is really high."
Joe:
"We'd hoped it would give us confidence!"
Caroline:
"Yeah, we thought it was going to give us confidence but it hasn't!"
Who do you think is your biggest competition?Joe:
"All of them!"
Caroline:
"Iain Lee is very funny. Lee Nelson and Omelette, theirs visually is going to be extremely funny. I saw Ade Edmondson trying on his costume yesterday and that's going to be epic."
Is there anyone you think you can beat?Both:
"No!"
Have you picked up any injuries during rehearsals?Caroline:
"Joe's got a sore bum."
Joe:
"Yeah, I've got really sore bum cheeks."
How did that happen?Joe:
"I don't know, I must be doing something."
Caroline:
"Dancing!"
Joe:
"Yeah, dancing. It's just done something to my arse. But it's feeling a little bit better today. I think my bum's getting used to it."
What's been your favourite performance on Let's Dance this series?Joe:
"Russell Kane."
Caroline:
"He set the standard very high. Noel Fielding was very good last week. I thought Lulu was really good."
Joe:
"Yeah, Lulu was brilliant. But yeah, Russell, Russell. I tell you what, if I bumped into him dressed like that in a nightclub he'd probably get the shock of his life."
Caroline:
"Joe would probably try and pull him!"
Joe:
"I think he's so beautiful!"
If one thing goes wrong for you tomorrow, what will it be?Caroline:
"Joe dropped me in rehearsals yesterday."
Joe:
"Caroline dropped herself in rehearsals!"
Caroline:
"Joe dropped me in rehearsals! All you had to do was catch my arm."
Joe:
"Yeah, but you were lashing me with your hair in my eyes!"
Caroline:
"Argh!"
Joe:
"There are plenty of things that can go wrong, but you know what? If it does go wrong, f**k it."
Caroline:
"Joe! Language!"
Joe:
"It's all part of the spirit of things, isn't it?"
You've obviously worked together before, but have you had any arguments while rehearsing for Let's Dance?Caroline:
"We argue. That kind of is our relationship - it's based on arguments the whole time. It's like we're in a relationship and we're having little bickers."
Joe:
"It comes more from Caroline's side. I'm quite chilled and laid back!"
Why should we tune in to watch your dance? You've told us you're not funny and not good!Caroline:
"Because we are out of our comfort zone. It is something a bit different. We are putting ourselves out there for Comic Relief. It's a brilliant dance. The dancers are brilliant, the whole performance is fun."
Joe:
"If you're a young man and want to see Caroline Flack doing some moves..."
Caroline:
"Joe!"
Joe:
"...I tell you what, you don't want to miss this!"
Let's Dance For Comic Relief
airs on Saturday at 6.40pm on BBC One.
Are you looking forward to this week's edition of Let's Dance? Sound off below!