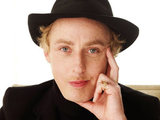 It is indeed a great pleasure to present to you at this particular time, national and internationally known as the hardest working man in hairdressing... the man who has cut the hair of Kate Moss, Victoria Beckham, Angelina Jolie and the rest... let's everybody shampoo and shimmy for Mr Scissors, the amazing Mr Please Snip himself, the star of the show, Mr
James Brown
! We got on the phone with The Godfather Of Hair to talk about fantastic E4 reality show
Great British Hairdresser
and the search for a new session stylist to the stars.
Why did you decide to do the show?
"When I do fashion week, if I've got 30 models I might have six or seven assistants. After it ends they all disappear all over the country! I say to my agent, 'Where's that girl who assisted me with the red hair, she was amazing!'. She'd say 'She's gone back to Nottingham'. There's so much untapped talent around England and I just wanted to find them and give them a step up the ladder because the fashion industry is so hard to break into."
What has the range of talent been like?
"From utterly, utterly crap and useless - they couldn't even do a ponytail! - to absolutely incredible. What I'm looking for is a session stylist, which is a completely different thing to being a hairdresser in a salon. Even if they were amazing they might be able to do great salon hair, but I had to retrain them almost, intensively, to do more fashion hair, more creative hair - much more simple."
What were you really looking for on those first auditions?
"I was looking for confidence, how they were interacting with the model. You could tell even from how they were standing whether they were going to be good. Their body language... was their equipment clean? Everything really."
Is attitude as important as technical ability?
"It's really important. It sounds glamorous and great, but I've just got off an 11-hour flight and I'm stuck in an airport for ten hours by myself! You have to have confidence and handle the stress and all the travelling. On the day, one shoot might cost £2-3 million so you've got eight hours to make it look amazing. You haven't got time to mess it up. You need someone who's fun and nice to be around but most importantly can just do their bloody job! You're not doing Mrs. Smith from up the road who you've known since you were 2. You're doing Demi Moore and you've millions of pounds at stake."
You do the show with Abbey Clancy... what's she like to work with?
"Incredible. I wanted Abbey from the beginning when I decided to do the show. Abbey's mum's a hairdresser, Abbey knows about beauty. She looks great and she knows about the industry and she's also very kind and incredibly funny. I knew we'd have a laugh."
Have you done her hair before?
"No. We met years ago at an event - we sat next to each other at a Prince's Trust event and we instantly clicked. She's got an Irish background, just like me, and has a similar sense of humour."
What can you tell us about Dannii Minogue popping up on the show?
"Dannii was actually in Australia because she just had her baby, so we did a live link thing. We were shooting a campaign for the perfume she's done with her business partner Tabitha. There were three different perfumes - Dawn, Day and Dusk. It was a major deal because they're just putting it out and it can't fail. It was amazing for her to trust us to do that."
There's a good mix of boys and girls on the show - what's the gender divide like in the industry?
"If you think of Vidal Sassoon, Trevor Sorbie, Nicky Clarke, John Freida. It's like chefs, it's mostly men. For some reason women like having their hair done by men, whether gay, straight or whatever. The few women that are in the industry would blow your mind - they're incredible hairdressers."
Was gender a factor at all when you were making your picks?
"I didn't give a s**t if they were transvestite, if they were half-man, half-woman, as long as they did good hair! They had to be presentable whoever they were - image is a big part of the job - it's the fashion industry. But as long as they did good hair I didn't care. Just give me good hair!"
Do you hope that the show inspires more people to get into hairdressing?
"Totally. It's really hard to find young people who want to come into hairdressing. I know it's only hairdressing - we're not saving lives and doing organ transplants - but you train for three years. You sweep floors and you get paid crap money, so it's really hard to get young people into the industry."
What have we got to look forward on the show?
"Me kicking off quite a lot! Frustration, tears, tantrums! Could you imagine a thousand hairdressers in a room? All big personalities. I say, 'Why don't you try this?' and they almost tell me to p*ss off! I'm like, 'Okay then', then I see them struggling. They don't listen a lot of the time."
Was it hard to balance being a mentor and being strict when you needed to be?
"It was so much harder than I thought it would be. It was really emotional for me. I'm not a weepy sort of person, I'm quite strong, but I cried a lot. It was quite intense. When you get down to the final ten they start to really want it. I showed them covers of
Vogue
or
Glamour
that I've done - I've got them into it. I went out and bought loads of books for them and showed them who Brigitte Bardot was - they didn't know! It opened up their eyes. It's exciting."
What's the best thing about being a session stylist?
"I like not knowing what's next. And the money's great and the travelling. When you get to my level you get a nice business class ticket. It's a nice life but you have to work bloody hard and take a lot of s**t, actually."
Do you want to do another series? How likely is another run?
"I haven't got a clue! I would want to do it again for sure. The industry are very excited about it, which for me is a great sign. People might hate me though and think I'm a complete a**ehole and not tune in! Let's see what happens. I'd definitely do it again because I loved it."
Where do you get your own hair cut?
"I don't really care about my hair! It looks like a bush, doesn't it? I look like a ginger Lenny Henry in the '80s! Whoever wants to cut it, whether it's a young assistant or whoever. I've been on jobs before and models have gone, 'Let me cut your hair, please!' and they haven't a clue what they're doing. I don't really care what my hair looks like."
Great British Hairdresser continues tonight on E4 at 10pm