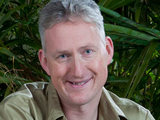 After 14 days in the jungle,
Lembit Opik
was the second person evicted from
I'm A Celebrity
. The former Liberal Democrat MP followed Sheryl Gascoigne out of the squalid camp after polling the fewest viewer votes on Friday night's show. We caught up with Lembit in Australia to find out about his jungle experience…
How does it feel to be out of the jungle, Lembit?
"I'm free at last! I'm so happy to be out of the jungle.
I'm A Celebrity
was a wonderful experience and I'm going to miss my camp mates, but I know I'll see them all again in a few days."
Are you pleased with your jungle experience?
"The show exceeded my expectations in a very good way. Firstly, I know that I can survive the jungle. Secondly, I've found that in relative hardship you can learn a lot about yourself. Thirdly, I've never been bitten by a snake before - and that was an incredibly bizarre experience."
What did you learn you learn about yourself in the jungle?
"The one thing I've discovered about jungle wildlife is that I am afraid of snakes. I got bitten twice in the jungle and the scars are still on my hand. It was horrible. I thought the snake was a rubber mat when I first put my hand in the box. However, after collecting four stars, I realised it was a snake - and that's when it bit me. I couldn't believe a snake had bit me. But I also couldn't believe that I went and put my hand in again to get the remaining star."
Did you want to leave?
"Of course I didn't. I wanted to stay in there. I could've easily done this experience for a few more days because I was learning so much about myself. It's a completely clear environment in the jungle with no emails, no meetings and no telephones. I didn't want that the experience to end."
What else did you learn in the jungle?
"If you go into the show in good faith, you can learn so much. Firstly, I learned about how little you need to survive. You don't need luxuries. Secondly, I learned what it's like to live with a team under pressure.'"
What do you think about Gillian?
"Gillian has had an incredible journey. She was basically phobic about insects, confined spaces and creepy crawlies. In other words, everything that this show is about! I kept telling her that insects are our friends and eventually she really tried to conquer it. In my view, she has been an absolute star. She has shown that if you do focus on your fears then you can overcome them. Respect to her."
Who do you think will win the show?
"Linny (Linford Christie) could go all the way and I really hope he does. I'd like to see Shaun [Ryder] go far, too. With Shaun, what you see is what you get. He's very down to earth and he's a great bloke. And Linny is like a blood brother to me. He always helps people feel better when they come back with few stars. He would've given Aggro [Santos] a big hug in the camp when he came back with three stars."
Why did you sign up for the jungle?
"It was pure curiosity. I thought it would be an adventure and I wanted to know how I would act when undernourished, over-tired and under pressure."
Politicians tend to get a rough ride from the public on I'm A Celebrity. Did that worry you at the start of your jungle journey?
"At the moment, my main income is through journalism. However, I'm still involved in politics and I want to stand for the Mayor of London. I supposed I'm used to the rough and tumble of politics and I'm used to rough rides. There's no rougher ride than losing your seat, which is what happened to me. In a way, the show was an election because the public has a vote. If the public chose to give me a rough ride, then I knew the rules and I just had to do my best."
Were you under the illusion that the producers might slip you a piece of pizza on the sly if you went hungry in the jungle?
"I had no illusions about the challenges on the show. Begging for a bit of pizza wasn't going to cut it with the production crew. If you c*ck up a Bushtucker Trial, you end up with nothing and I don't think pleading is going to help matters. That's fair enough. What kind of an exercise would it be if a little whinging gets you spoiled?"
Did you tell Nick Clegg that you were going to take part in the show?
"Like everybody else in Britain, I think everyone had a pretty good idea that I was joining the show, but I didn't have a specific conversation with him about it before I went into the jungle. I don't know what his view on the show is, but feel free to ask him. I think he'll probably regard this as a colourful contribution to the profile of the Liberal Democrats."
You're not the first Liberal Democrat to do the show…
"No, I'm not. Brian Paddick is a former mayoral candidate for the Liberal Democrats. He has done the show before and he's been well received in the party. I hoped it would be a similarly positive experience for me, too."
I'm A Celebrity... continues on Sunday at 9pm on ITV1.