Reality TV News
Final four tackle Cyclone trial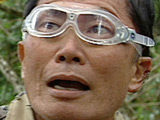 The final four contestants on this year's
I'm A Celebrity... Get Me Out Of Here!
have had to work together to tackle the Celebrity Cyclone Bushtucker Trial.
Martina Navratilova
, David Van Day, George Takei and Joe Swash were tasked with carrying stars to certain jungle positions while blasted with water canons and gale force winds.
A meal was at stake for every star held up at the end of the task, which the contestants had five minutes to complete.
George went first and battled the elements to reach his spot with all four stars in his possession. David struggled but managed to grab the tokens and reach his position, while Martina was blown over by the wind but made it to the spot with one and a half minutes to spare. Joe, who despite knocking everyone over, reached his designated area just in time. All four won a meal for the night.
"Well done boys! We got blown back but we held on, we were never going to let go or give up," said Martina after the task.
She later told the Bush Telegraph: "The Trial was a lot of fun. It was very hard and slimy. You can't get any grip and the air and water is blowing you. It's like fighting the elements.
"George was phenomenal. He had a hard task getting all four stars to the first one. At one point he was totally stuck in one place. He was moving his arms and feet and going nowhere and he was blown back and he started again."