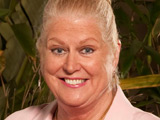 Kim Woodburn
has claimed that she will "pee" near her bed like former
I'm A Celebrity
winner Carol Thatcher.
In 2005, Thatcher had to be
warned
by producers after she was caught by infra-red cameras urinating near her hammock.
Speaking about Thatcher's antics, the
How Clean Is Your House?
presenter said: "I liked Carol Thatcher; I thought she was a hoot. And when she peed over the side of the bed - I think I will be peeing over the side.
"I'm not getting out of bed at night in the dark with spiders dragging my knickers off. There could be anything out there. I'm going to pee wherever I can. If anyone has a go at me I will say I'm peeing on my own side, not theirs. Come on, when you are lying there you are obviously worrying if there is a bug crawling up your bum or something; I'm not being funny."
The 67-year-old cleaner also claimed that she would not be concerned about cleaning the toilets at camp.
"It doesn't bother me in the least. I have put my hands on faeces in houses and there is none of that with the camp toilet,"she said. "I've seen them do it - unscrew, take the lid off, slam it down as quickly as you can, and put the fresh one in. It is not hard labour. It doesn't bother me - it's poo and pee."
I'm A Celebrity
returns on Sunday at 9pm on ITV1.