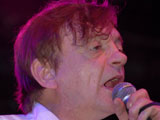 Mark E. Smith
has claimed that he turned down the chance to enter
I'm A Celebrity... Get Me Out Of Here!
The Fall frontman told
The Quietus
that he was asked if he wanted to replace John Lydon in 2004 when the Public Image Ltd frontman walked out of the jungle.
Asked about fellow musician Shaun Ryder's recent stint on the show, Smith said: "I was asked years ago when Johnny Lydon was on it. I was doing this daft pilot show which was something to do with [publisher] James Brown.
"Halfway through filming the bloke from the jungle comes in and says, 'Johnny Lydon's just left the jungle - do you want to replace him?' But I said no. I don't know what the point of that story is but there you go."
He added: "I like the TV but it's just not a path I want to pursue. You know, you feel a bit like a part of your soul's gone even after doing two days of it. Not to be insulting to Shaun, but that's the way I see it."