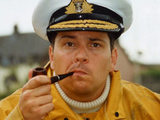 Dom Joly
has revealed that he is working on a reality show with ex-
Big Brother
producer Daniel Nettleton.
The
Trigger Happy TV
comedian met Nettleton after taking part in last year's
I'm A Celebrity
. Nettleton, who was the voice of
Big Brother
's Tree of Temptation,
worked
on last year's jungle series as part of the creative team.
Speaking to
DS
about the joint project, Joly said: "I think I'm supposed to hate reality TV, but I'm obsessed by it. Not all of them, but well-made reality TV is a real skill I think.
"I am trying to put one together actually. When I was in the jungle I recognised the traits of the guy who did the Tree of Temptation on
Big Brother
, because he was the producer on this year's
I'm A Celeb
and he did the spy challenge and things like that. We got on after the show and we're coming up with a reality show that I'm quite excited about."
When asked how the show might work, Joly claimed that he wanted it to be more interesting than just "chucking a load of people together". "I want something that will f**k with your head a little bit more," he said.
> Click here for our full interview with Dom