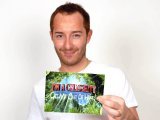 Scott Henshall has criticised Phina Oruche following his departure from the
I'm A Celebrity
jungle camp.
The fashion designer has accused his rival of playing up to the diva role in order to help her acting career.
"We started off by really getting on OK but we certainly weren't the best of friends," he explained.
"I think she is there as the jobbing actress. She was the least known person on the entire programme. She wanted to be there to get her kit off. She wanted to be there to be known as the actress. She wanted to play the diva part. It's just a shame she didn't have the body or the face to live up to it, or the intelligence."