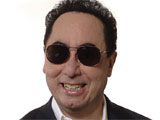 David Gest has said he is delighted to have lost the most weight of all the
I'm A Celebrity Get Me Out of Here
contestants.
Jason was yesterday handed scales, along with all the contestants' weights on entry, and asked to see what effect the jungle lifestyle was having.
Gest led the losses by a long way, having dropped 2st from 13st 5lb to 11st 5lb. Matt followed, down 1st from 13st 2lb, while Jan led the girls at 8st 3lb down to 7st 8lb.
"I am very happy to lose so much weight," David decided. "I knew I looked flabby and I had a feeling I'd lost lots of weight because my gut has gone.
"As Americans we waste too much - more than the British. I've learned that if there are four pieces of bread left and they may have a little yeast - take off the yeast, toast it and eat it!
"This has been a great learning experience and I plan to keep the weight off."