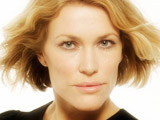 Cerys Matthews
has revealed that she dumped
I'm A Celebrity...
co-star Marc Bannerman because he could not handle her children.
The singer also blasted his controlling nature, saying he criticised her wardrobe and insisted on ordering for her when they went out for a meal.
She told the
News of the World
: "I remember him saying 'Have you got any other jumpers?' I think he was surprised that I lived so simply, hate shopping and don't have a fancy wardrobe."
Matthews, who ditched the ex-
EastEnders
star just before Valentine's Day, explained that he had struggled to cope when she took her two children to visit him in London.
"It was a disaster. We all caught a cold and Glenys Pearl was screaming with a fever. We were switching beds all night and I remember Marc saying, 'This could be the rest of my life.' And he looked scared!"
Talking about his habit of ordering for her in restaurants, she added: "I remember us going for an Indian meal, one of the only two proper dates we ever had, and he chose what I should eat.
"He picked the wine and the food, which was a shock. I didn't tell him I prefer to order my own stuff because our relationship was so new."
>
Bannerman 'will not win ex-girlfriend back'