Reality TV News
Kim Woodburn embarks on secret mission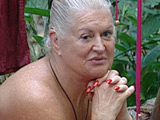 Kim Woodburn
was charged with a secret mission today.
The
How Clean Is Your House?
presenter was challenged to slip the word 'discombobulate' into separate conversations with each of the other celebrities without them suspecting that she was up to something.
She was told that her reward would be a bottle of champagne if she was successful.
Heading straight for Justin Ryan, she said: "You know all these interviews you do in the Bush Telegraph just discombobulate you, don't they?" Ryan remarked on her using "a big word", but didn't question any further. Woodburn then moved on to Jimmy White, who was boiling water on the fire.
"All that water carrying does just discombobulate you, doesn't it?" she innocently enquired, as White muttered something noncommittal and walked away carrying the water holder.
Finally, Woodburn found Gino D'Acampo behind some bushes and said: "With your career, books, television, business and everything, do you ever discombobulate?" Confused, the chef asked her what she meant. "Well, you know, get confused and busy," she replied.
Her task was thus deemed successful and the celebrities were duly awarded their bottle of champagne.