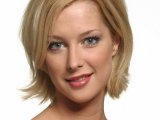 Gemma Bissix
and Roxanne Pallett have reportedly declared war as they prepare to compete against each other on
Dancing on Ice
.
Bissix, who plays Clare Bates in
EastEnders
, and Pallett, best known for her role as
Emmerdale
's Jo Sugden, are the only female soap stars in the lineup for this year's series.
"There will be soap war on ice and I say: 'Bring it on!' Roxy and I will be competing for the same votes among soap fans," Bissix told the
Daily Star
. "It will be the blonde southern soap queen versus brunette northern soap queen. But there can only be one winner - and that's going to be me."
She then joked: "I will make sure I skate before Roxy and scatter sequins all over the ice so she falls over."
Meanwhile, Pallett told the newspaper that she is feeling equally confident, explaining: "There can only be one soap queen on ice and that's me. It's going to be the biggest battle on the show."
Dancing on Ice
kicks off on Sunday at 7.00pm on ITV1.