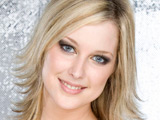 Gemma Bissix
has said that the public should vote for the worst contestants on
Dancing On Ice
to annoy judge Jason Gardiner.
Bissix, 25, who became the first female to leave the show on Sunday, claimed that a final between weak dancers Coleen Nolan and Todd Carty would "drive Jason mad".
"It will be brilliant. They could be another John Sergeant," Bissix told
The Sun
. "The public have realised they are in control of the leaderboard. It will drive Jason mad if they carry on doing well.
"[Jason] is shooting himself in the foot, because the harsher the comments he makes, the more people will get behind them. He'll be furious when he has only got the underdogs left."
The soap actress also said that none of the dancers listen to Gardiner's comments anymore because he is constantly negative.
"He was unfair to Roxy and unfair to Jessica, so you can't listen to him," she said. "When he called me a cardboard cut-out it was unnecessary."
Responding to Bissix's criticism, Gardiner said: "She can say what she likes - she's out of the show, so who cares! They come and they go."