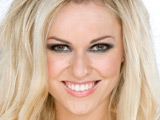 Zoe Salmon
has revealed that she is keen to perform the dangerous headbanger routine on
Dancing On Ice
.
The stunt, which has been attempted by Bonnie Langford, Suzanne Shaw and Lisa Scott-Lee in previous years, sees female skaters being held by the ankles as their partner spins them around high in the air and low down near the ice.
"I would love to do it tomorrow. You have no idea how much I'm itching to do that," Salmon told the
Daily Record
. "That's what it's all about for me, the big lifts and the tricks. I really hope I'll be able to do the headbanger."
The former
Blue Peter
host admitted that she often gets nervous in training sessions for the ITV1 skating show because injuries are so common.
"I go to my lesson and I think, 'What's going to happen to me today?' This week, I was so tired I tripped over myself when I arrived on one of the days and was told to go home," she explained.
"The programme makers know it's a dangerous sport. You just have to look at Michael Underwood, who broke his ankle last year. That was at the end of a session when he was tired and decided to do his performance one more time.
"I thought you trained on the ice until you got it 100 per cent but you only get to train two hours a day so you don't get too tired and make mistakes."
Dancing On Ice
continues tomorrow at 6.50pm on ITV1.