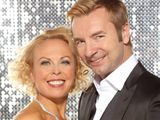 Nicky Slater
has admitted that there was always tension between he and Christopher Dean on
Dancing On Ice
.
The former skating judge said that he believed a criticism he made of Dean during their competitive years always undermined their relationship. He also claimed that neither Dean nor his skating partner Jayne Torvill contacted him last year when he was
axed
from the reality show.
"There was rivalry between us way back, when we competed against each other," he told the
Daily Mail
. "He is the alpha male on the show and maybe he remembers that I once said that, while he was a good skater, it was Jayne who provided his golden ticket to the top.
"That was a ­factual, not ­personal statement. Anyway, I heard nothing."
Speaking about his departure from the programme, Slater insisted that he was "not bitter" and admitted that it may have been his own fault that he was dropped from the show.
"I'd had a long battle before last year's series, as the contract being offered was so strict I felt I would be ­completely owned by ITV for the period of the show, which goes on for almost three months," he said.
"This time, however, five years of buffeting had taken their toll, so I got a lawyer to do it for me. I wonder if I got a touch of c­elebrity-itis. You know, being on TV, touring the country with the
Dancing On Ice
stage show, ­convincing myself I should be paid more.
"The third party negotiations dragged on and I found myself ­battling with my own lawyer. Maybe unacceptable demands were being made on my behalf or maybe ITV was digging its heels in.
"Perhaps if I'd handled my ­negotiations, we could have reached an agreement. Who knows? I'm so cross with myself."