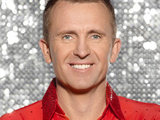 Dominic Cork
has been voted out of
Dancing On Ice
by his fellow contestants in a shocking skate-off twist.
The Hampshire cricketer finished in the bottom two alongside Jeff Brazier after judges' scores for their original performances earlier tonight were combined with viewer votes.
Following confirmation of the results and a final showdown between the unlucky duo on the rink, the surviving nine celebrities were then instructed to take part in the "ice pick", which involved each of them making a conscious decision to save either Cork or Brazier.
Called out onto the ice one at a time and asked to skate over to their preferred choice, only Johnson Beharry, Denise Welch and 'Comedy' Dave Vitty opted to spare Cork, while the majority sided with Brazier and allowed him to remain in the competition.
Brazier was variously described by the stars as having "passion" and "spark", while Cork's votes from Welch and Vitty appeared to have been based on personal preferences. Only Vanilla Ice chose to surrender his vote - for Brazier - to chance with a "diplomatic, classy" coin toss.
Speaking after the ballot, Cork assured his former skating colleagues that they should not worry about tonight's vote.
He gushed: "I have loved [the show] and one reason is because of this lady here, [partner] Alexandra Schauman, she is a top professional. I hope she's back here cos whoever gets her is a lucky man... I have loved it."
Schauman concluded Cork's
Dancing On Ice
experience by stating that the sportsman had managed to "inspire her" during his short time on the show.
Dancing On Ice
returns next Sunday at 6.35pm on ITV1.