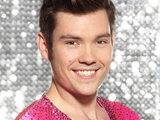 Jeff Brazier
has claimed that Sam Attwater has had his
Dancing On Ice
chances knocked by the judges.
The TV presenter, who lost out to Attwater in last night's skate-off, said that the public are being influenced by the judging panel's constant criticism of the ex-soap star.
"He's an excellent skater, very natural, he has the best skating ability and he has a lifetime experience of performing," Brazier told
This Morning
.
"The judges' comments have influenced people. He hasn't skated any differently, but it is amazing how a few judges' comments can change people's perceptions."
Attwater was in third place on last night's judges' scoreboard, picking up only 24.5 points for his Prop Week performance. Chloe Madeley topped the scoreboard for the first time, totally 27, while Laura Hamilton continued to impress, scoring 25.5.
Brazier praised Madeley for her vastly improved performances over recent weeks, describing her partnership with Michael Zenezini as "beautiful".