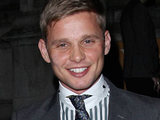 Jeff Brazier
has revealed that he will use
Dancing On Ice
moves when he goes out clubbing in the future.
Speaking to
DS
, the TV presenter said that his new party trick would be using the lifts he learned on the show on girls in nightclubs.
"I can't imagine whether I'd be able to lift someone else," he said. "Would it be possible? Would it be a disaster? I'll probably be trying in nightclubs!
"Next time I'll be speaking to a girl, I'll probably say, 'do you mind if I put you into a roll up?' I think that will be my party trick from now on."
Brazier also claimed in the interview that there was no way he could pick a winner from the final four contestants, arguing that they all had their own "edge and angle".
Laura Hamilton, Chloe Madeley, Johnson Beharry and Sam Attwater will compete in this Sunday's semi-final.
> Click here for all our Dancing On Ice coverage