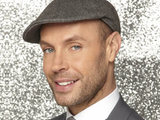 Jason Gardiner
has unveiled the results of his hair transplant ahead of tonight's
Dancing On Ice
final.
The judge, who
had previously been rumoured to have undergone the procedure
, admitted that he had the £35,000 transplant - which involved taking 3,000 follicles from the back of his head and planting them in the bald spot - to boost his self esteem.
"It was important for me to get this done," he told the
News of the World
. "I feel so great about how it looks. I felt resentful that I'd had to give in to being bald. It affected me psychologically. I went through self-doubt, depression and self-loathing. I was ashamed of myself.
"I couldn't be intimate with people. It was a nightmare. It was suffocating me actually, the realisation that I could never change it. I went through a grieving process. I found it very traumatic. I had a bit of a breakdown over it. It was something I was in denial over."
Speaking of the transplant, which he had in Los Angeles, he said: "You don't see any growth for between six and seven months. My new hair only started coming through in January. But eventually - and it is almost overnight - you can actually feel it growing. I was absolutely loving it. And I will never lose this hair now!"
Gardiner had previously
confessed that he was "entertained" by the speculation surrounding his constant hat-wearing
.