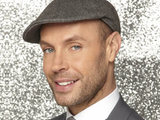 Jason Gardiner
has said that Sam Attwater deserved to win
Dancing On Ice
last night.
Expressing his thoughts in a blog post on Facebook, the judge praised Attwater for overcoming "his problems" and a performance dip during the series. Attwater was
crowned champion last night
, fighting off competition from both Laura Hamilton and Chloe Madeley.
"When this couple first hit the ice it was like an explosion!" Gardiner wrote. "Sam had all the attributes that I look for in a potential champion. He was strong, technically superb, confident, a great partner and boy could he skate.
"He delivered one of the strongest routines of the series with his Riverdance and astounded the panel with his brilliant execution."
He continued: "Then this partnership hit a trouble patch where they were out of sync and not quite gelling together. Sam started to lose his spark while others excelled. But like a trooper he kept fighting and worked hard to overcome his problems.
"In the semi-final he proved that he was back and on top of his game as a real contender. After tonight, Sam has shown that the road to success isn't always an easy one but by applying yourself and with single-minded determination, you can overcome anything if you put your mind to it. He deserves to be the king of this series because he has truly worked so hard for it."
During the ITV show, Gardiner finally revealed the results of his recent hair transplant.
> What The Judges Said: 'Dancing On Ice' grand final
> In Pictures: 'Dancing On Ice' grand final