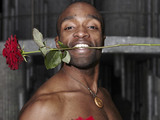 Dancing on Ice
got all lovey-dovey tonight with a Valentine's special, so of course it was the perfect time for one of the grisliest live accidents in the show's history to occur.
Everyone's heart stopped when
Jennifer Ellison
got a little too carried away with her kicks and stumbled off the ice with a bleeding head, somewhat overshadowing the rest of the night's performances. But does she get the sympathy vote from you lot?
After all, tonight saw Chico and Sam Nixon achieve personal bests and Jorgie Porter notch up the highest score of the series so far, making them worthy recipients of your support.
And what of the others? Maybe you're into Chemmy Alcott or have chosen to stand by Rosemary Conley? Whoever it is that sets your heart a-flutter, let us know!
Share your opinions at the bottom of the page and vote in our poll below: