Jennifer Ellison
has revealed that she is struggling to regain her confidence after
slicing her head open with a skate
on last week's
Dancing on Ice
.
Responding to
tabloid reports
that she has had "a big problem" stepping back into the rink, the actress confirmed during a
Daybreak
appearance with pro partner Daniel Whiston that they have yet to put together a new routine.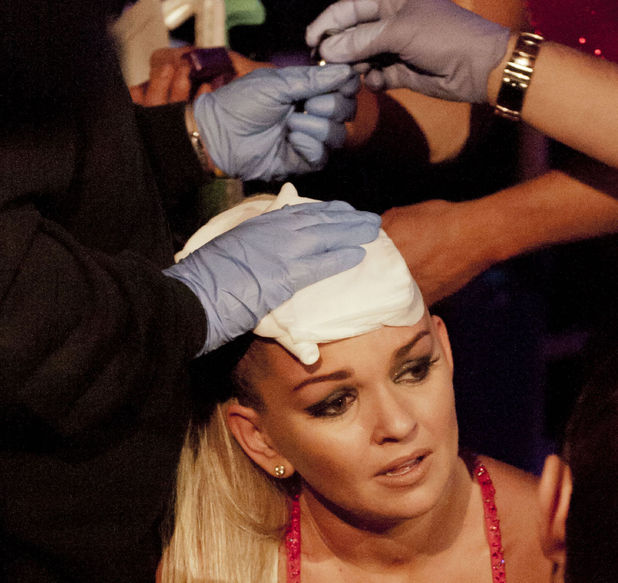 "After the accident I went into shock and that's had a bit of a knock-on effect," she said. "Monday, I was in shock [when] I went back on the ice.
"I kind of took a funny turn so they cancelled training [and on] Tuesday I just couldn't stop crying."
Showing that she was trying to stay positive about the incident, Ellison then joked that she would be dancing to 'Hole In The Head' by co-star Heidi Range's band Sugababes on Sunday (February 19).
"You've got to see the funny side or else you'll cry," she said. "We're going strong."
Ellison earlier went into more depth about the extent of her injuries, saying: "I felt like I'd been hit with a brick. I thought my head was going to be hanging off, honestly, that's how strong it was.
"The blade actually sliced through my hair. The blade is that sharp, My hair's like somebody cut it with a knife or scissors. I've lost a big chunk of hair."
Ellison
thanked Dancing on Ice fans for their support
earlier this week, assuring them: "I'm absolutely fine and I've been glued together."
Dancing on Ice
returns with
an ultimate skills test, a solo skate-off and a double elimination
on Sunday at 6.05pm on ITV1.
Watch Jennifer Ellison's
Dancing on Ice
accident below: