20
Reality TV Blog
'Dancing on Ice' final - live blog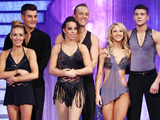 We've
endured
enjoyed the past nine weeks of skating mayhem and tonight, hardy viewers, we've reached the
Dancing on Ice
final!
As Jason prepares to pack up his put-downs and Torvill and Dean return to whatever it is they do when this isn't on, Matt Lapinskas,
Beth Tweddle
and Luke Campbell are going for victory.
With a Showcase routine, a Bolero performance and a returning skaters' medley (hooray!) to smash,
Digital Spy
will be following all of the action. So join us, and get the pizzas in, as it's going to be a good one...