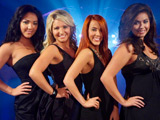 Who'd want to be Louis Walsh this morning? After Bad Lashes were sent home last week, another of his acts, the honestly-titled
Girlband
, were
eliminated
on Saturday. Worse still, Simon Cowell called the group's performance "gimmicky" and claimed there was no connection between the girls and their mentor. Intrigued, we called Girlband's Tita to find out whether Mr Nasty had a point.
How are you all feeling today?
"We were a bit down yesterday but we've all picked ourselves up now and we're just really excited about what's to come. We're all really upset but we know there are still so many good things to come from this."
Did you expect to be in the bottom two again this week?
"Um... we didn't really know. I think there's so much talent on this year's show that anyone could end up in the bottom two. It's going to be a shocker every week I think."
It's two weeks into The X Factor and both girl groups have already been eliminated. Why do you think they struggle on the show?
"Well, Louis told us it's very difficult for girl groups to do well on
The X Factor
because not a lot of people pick up the phone and vote for girls. A group's never won before and hopefully that will change, because I think the industry really needs a good, fresh band at the moment. Hopefully we could be that band!"
Simon said your performance of 'Heal The World' was a bit "gimmicky". Do you think he had a point?
"Well, the production team actually wanted a children's choir to come on-stage with us holding rabbits and gerbils and hamsters and stuff. We were like, 'Nooooo!' Just imagine what he'd have said if we'd had all of that too! Actually I think Simon has a bit of a soft spot for us, he just gives out a lot of banter. We all think he's really funny."
He also claimed there was no connection between you and Louis. Is there any truth to that?
"No, we absolutely love Louis. He spent lots of time with us in rehearsals telling us what we needed to improve on and he always called and texted us during the week to find out how we were. He actually texted us just a second ago saying 'Hi' and asking how our interviews were going."
Do you think he's the best judge to mentor a girl group? Would you rather have had Cheryl?
"No. I think he's very, very good with boybands but he tried his best with us and we tried our best with him. You know, he did really well with Girls Aloud when he was managing them. I think we had the best mentor for the band and I wouldn't have wanted it any other way."
Did you hang out with Girls Aloud at all on Saturday?
"We watched them rehearsing and they were really lovely, smiling at us and asking how we were and stuff. We didn't actually get to see their live performance but when we were watching them rehearsing we were like, 'Oh my God they're amazing!' They're very inspiring to us."
Louis has said that Girlband need a fifth member to become a "great, great girl group". Is this on the cards?
"Well, we've actually got to have a meeting with Louis to talk about the future. Could we recruit a fifth member? Hmmm... well it's quite possible, we could go on a nationwide hunt! We'd be looking for someone fun and happy and fresh. We're all best friends anyway so we'd love to have another girlfriend, but obviously it would help if they can sing and dance a bit too!"
The X Factor continues Saturday at 7.45pm on ITV1.