33
Reality TV Interview
Exclusive:

'X Factor' Nu Vibe exit interview: 'Gary Barlow is against us'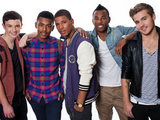 It felt sadly inevitable that boyband Nu Vibe would find themselves in the
X Factor
bottom two last night. Cruelly rebranded "No Vibe" by Gary Barlow and Louis Walsh following their dance reworking of
U2
's 'With or Without You', Jordan, Stefan, Bradley, Ashford and Richard failed to make a connection with the judges or viewers.
Digital Spy
caught up with the boys first thing this morning to find out their feelings on nemesis Gary Barlow, Twitter haters and
those rumours
of in-band squabbles.
How are you feeling this morning, guys?Ashford:
"We're all right. We're just a little gutted. It's just sunk in basically."
How did you feel Saturday night and the sing-off went for you?Ashford:
"We watched it back and thought that everything we wanted to do and everything that was planned, we pulled off."
Bradley:
"It went how we wanted it to go. Especially the save-me performance. It was the best that we'd ever performed that song."
Did you think you did enough in the sing-off to warrant at least going to Deadlock?Jordan:
"We did think we had a good chance of going through. It was nice to get a chance to sing a slow song, because I think that suited us better and probably gave us a better chance in the competition. But all we could do was try our best... and there's still more to come."
Were you happy with the song choice on Saturday? It felt like an odd selection to me...Bradley:
"I think the song choice was really good for us on Saturday. The fact that it was an old song and a slow song suited us. I liked the fact that we managed to change it up and bring something different. I don't think it was a bad performance, whatsoever."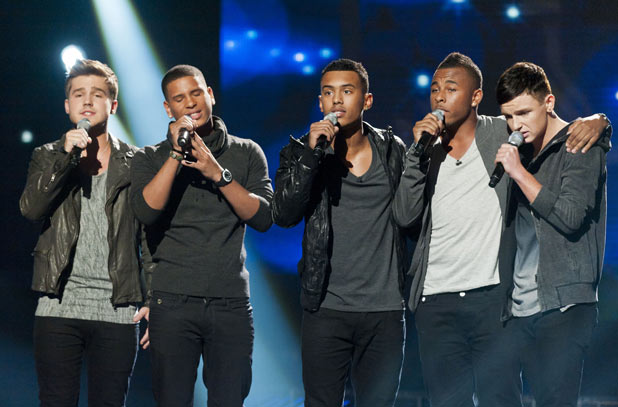 Did Gary Barlow's comments hurt you? He's the head of the panel in many people's eyes, so his comments do have an impact on viewers...Bradley:
"Every comment he said to us, did go against us. It did go against us, every single comment. He would say things like the 'No Vibe' thing and then people picked it up and started tweeting about. That did get to us a bit on Saturday."
Do you think he was unfair?Ashford:
"Some of the things he said, we took on board and we would have taken him on next week by proving him wrong. But we're not going to get that opportunity."
Why do you think the public have connected with Rhythmix and The Risk, but not you?Bradley:
"I think the public maybe just... could... I just don't know. I don't know why."
Jordan:
"I think maybe Gary has got something against us."
Do you think Gary Barlow was worried you may steal votes from his acts?Stefan:
"Everything that Gary has said and everything that Simon [Cowell] used to say last year, they are harsher than the other judges, but I think we respect what they had to say. They obviously have the experience. We took on all their comments, good or bad, and it made us better. It's just a shame we couldn't stay on for a third."
There were rumours that you weren't getting on. Did you have any problems coming together as a group?Richard:
"At Boot Camp, we were put together and since then we've lived with each other from Judges' Houses right through to the Live Shows. So there's only been one or two days where we haven't seen each other since Boot Camp. We've had lots of time to bond, get to know each other and we've gone shopping, gone to the cinema and gone bowling together. It's been great bonding. We got a bit of bad press, which I think got the wrong idea about what was going on, but there's been no major arguments about what's gone on. We're still tight and still will be."
Do you think those press stories damaged your chances?Jordan:
"I think at the end of the day, you'll always get bad press and good press. If people aren't talking about you and you're not creating a buzz, then you may as well call it a day. It's good people were writing about us, even if it wasn't all positive. It's all part and parcel for us now and part of being in the public eye."
Louis Walsh said that you need to stick together, but "rehearse, rehearse, rehearse" - will you be following his advice?Bradley:
"Yeah, definitely. We spoke to Louis after the show and he told us if we stick together, we've definitely got something and can make something out of ourselves."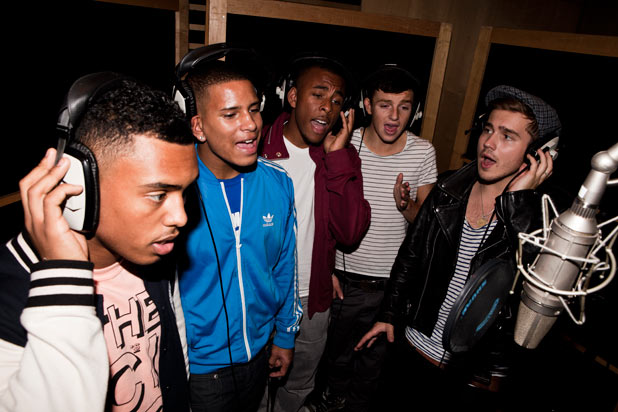 Do you have any ill feeling for your mentor Tulisa?Ashford:
"No, not at all. We'll definitely keep in contact with Tulisa. On her first day off next week, she's going to take us all out and meet us. She was the perfect mentor for us guys and we can't thank her enough. She brought us together really well."
Were you shocked that Frankie was against you in the sing-off?Richard:
"We were all shocked to see Frankie in the bottom two. We've all seen his supporters and out of the Twitter followers, he's got more than everyone on the show. It just shows you that Twitter is a small percentage of people that vote on
The X Factor
. That's what you have to remember when you read comments on there about you."
Do you have any regrets that you abandoned the show as solo acts? You could have come back solo next year...Bradley:
"Obviously at the beginning, we all wanted to make it as soloists, we can't deny that. But it was only when we were put together that we realised how good we were together. I think we wanted it a lot more as a group."
Are the rumours of fights between Kitty and the other acts true?Ashford:
"We haven't witnessed anything. We don't know what's going on."
Who do you want to win?Bradley:
"The other two groups."
Nu Vibe:
"And Misha and Craig."
The X Factor continues next Saturday at 8pm on ITV1