Sadly for
Sami Brookes
, despite her best efforts with a Cher karaoke staple, there is no turning back time on
The X Factor
. The 31-year-old Welsh belter was booted off the show last night by her mentor Louis Walsh after failing to woo the public with her cover of Cher's camp classic 'Turn Back Time'.
Digital Spy
caught up with Sami this morning to find out whether there was any animosity between her and Louis, get to the bottom of the Misha Bryan bully rumours and find out which act's hair she'd love to run her fingers through.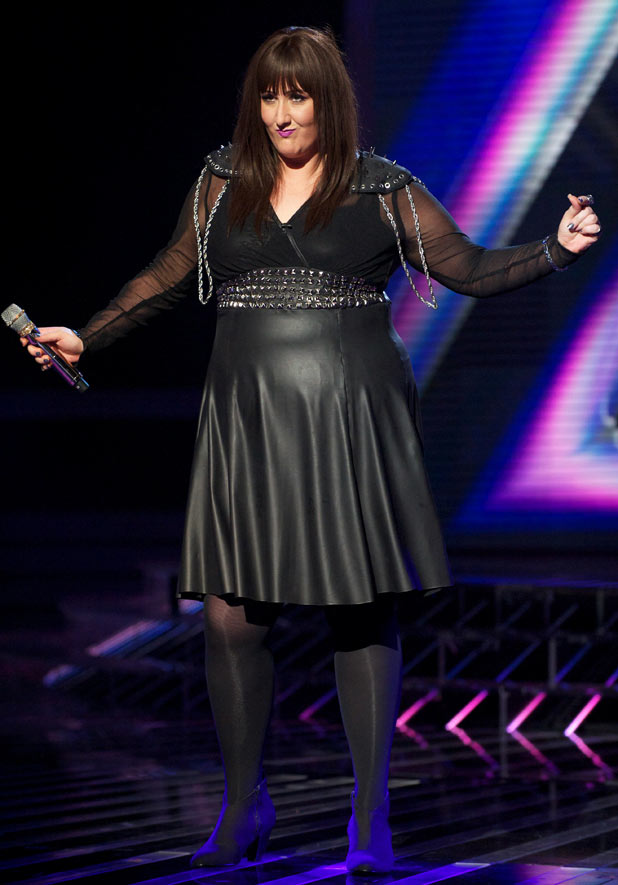 There have been lots of rumours and accusations flying around this weekend. Can you clear up what's been going on?
"There have been accusations, but I'm going to stamp out the bullying thing. There has been no bullying going on at all. People said that Misha bullied me. Can you imagine? I'm nearly 6ft, she's 5ft bloody 1. As if she's going to bully a big girl like me. It's laughable and ridiculous."
What went on between Misha and Rhythmix?
"The thing with her and Rhythmix, we all argue over silly little things. Things like hair, make-up. There's a lot of pressure and we're just like teenagers in this show, we just argue."
Was Tulisa wrong to wade in so strongly on Saturday?
"I don't disagree with what Tulisa did. She was just standing up for her act at the end of the day. I think Misha is going to sell millions of records anyway, no matter what I say or what Tulisa says. I'm a big fan of Rhythmix as well, I love them all in that house. That's the saddest part. I've been kicked off the competition, but the saddest part for me will be saying goodbye.
"I'm like the mum of the house, running around, checking everyone has taken their vitamins and that the washing's been done. I'm like, 'come on girls, let's get a grip, do your washing'. I'm really close to Janet Devlin and she was crying last night, so that broke my heart, it really did."
So there haven't been any bust-ups with you and the girls?
"All girls have disagreements, all the time. Misha was a close friend in the house. But we've all been under pressure. We're all tired, we all get monthly symptoms at the same time. We're all in sync with each other!
"I think it's been fantastic and we've all got on very well, considering we've been thrust together and have to live together. There are going to be disagreements from time-to-time, but the bullying thing is a bit silly. Me and Misha, as if someone that small would bully me! I'm a big bear compared to that little thing."
Would you describe Misha as a diva or a bully?
"I think it all gets a bit muddled up with her confidence. I think people like to see a timid character, but Misha is confident in her own skin. She knows how to work it. She knows how to stand on a stage. I haven't got a bad thing to say about her, honestly."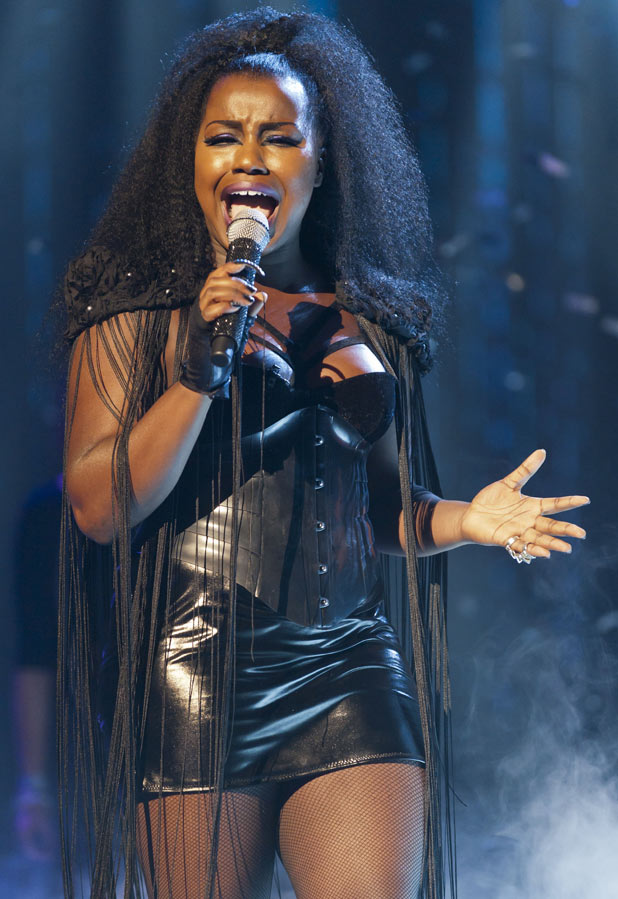 Were you happy with your performance on Saturday?
"Rock week is my favourite era. I was gutted about the song. I begged for the song to be changed. I had 20 songs written down and they wouldn't pick any of them. I begged and actually cried. I'm not a bloody diva, but I wanted to be taken more seriously.
"'Turn Back Time'... every girl sings that on karaoke night. I'm just gutted that I'm out. I tried to change it and mess around with the song, but you can't ever mess with a classic that much, so it was difficult. I didn't want that song and from day one, I've had issues with my song choices."
Did you struggle to get on with Louis then?
"Louis is a fun mentor. He's hilarious. Nobody knows how funny he really is. But in terms of song choices, he could have given me better material. I don't want to be doing songs for 75 year olds. I want to do current songs that I can change, like Bruno Mars at Boot Camp. I loved a challenge. Cher wasn't a challenge, it's a karaoke classic. They knew that, but they gave it to me anyway. I was a bit disappointed by that."
Were you annoyed that he saved Kitty rather than sending it to Deadlock?
"He's got his own reasons why. Kitty wants to be famous. Kitty loves it. She loves the singing, the dancing and the whole thing. I do as well, but I couldn't sell millions of albums. I'm want to be on the stage in the West End. We're very different. I was happy for her, because she was shaking and crying. I just said, 'calm down'.
"Louis has seen something in her. Sometimes Kitty is a nightmare. When I first met her I thought, 'oh good, what have we got here', but we ended up really gelling. I was disappointed and I think it should have gone to public deadlock, definitely. But Louis didn't give me that chance, so we'll never know. A lot of my fans are really angry."
Do you think Kitty is a bit misunderstood?
"The thing with Kitty is that she's so funny. She makes me laugh. She panics too much. She needs to sit down and chill out. Have a bloody sambuca shot or a bit of whiskey. Sit yourself down, girl. I'll tell you what, that girl can sing and perform. She really, really wants the fame. She wants to be the next GaGa and she's very passionate.
"I feel the same, but I'm heading in a different direction. I ain't a popstar. I'm 31, I'm a bigger girl. They can't mould me and sell me. I haven't got the look. They say it's about the voice, but we all know it isn't. I just want to get into theatre. That's my big dream and the show's given me a huge stepping stone."
How do you think Kitty can connect to the public?
"She needs to calm down. Stop analysing everything so much. She'll be okay. I've got to know her over the weeks and you know what everyone, she's really not that bad. At the beginning I thought she was weird and something else.
"We're just from different places though and by the end we were alright. We were more than alright, actually. She just needs to stay grounded, remain humble and a bit less of the craziness. If she was in America, they would get her. She just needs to be a bit more normal."
Frankie's been hitting it off with a lot of women on and off the show. Did he woo you?
"I love Frankie. He's outrageous and naughty. He boasts about sleeping with all these girls and that's great.
The X Factor
doesn't need to be squeaky clean. Look at all the rock bands. They are naughty and sleeping with groupies every night. Why shouldn't Frankie? He's a young boy and he's a normal red-blooded male who likes females. I think that's fantastic. People slag him off, but I'm a fan."
Do you like the big hair?
"I love his hair. I'd love to put my fingers through that."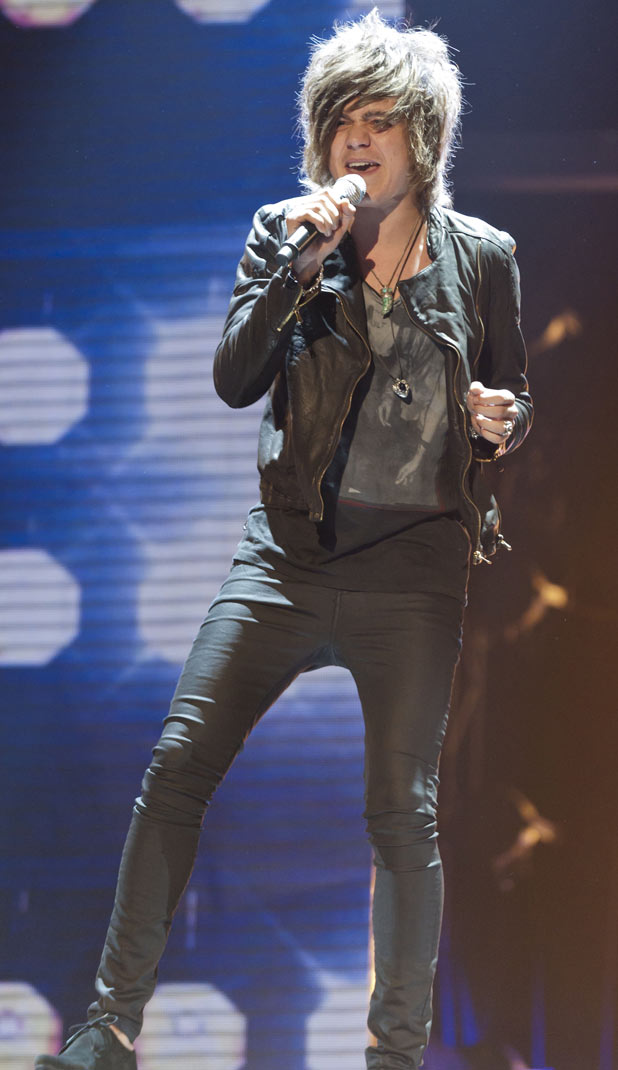 Who are you backing to win?
"Johnny Robinson for Christmas number one! All my fans and everyone who voted for me should vote for my Johnny. I want all my friends on
Digital Spy
to vote for Johnny. He deserves it. He's had a hard life, he's 45 and he's a bloody good entertainer. And Louis has to give him good songs not make him into a pantomime act. Because Johnny can bloody sing."
The X Factor continues next Saturday at 8pm on ITV1