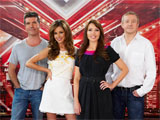 X Factor
hopeful
Alan Turner
has been accused of lying to the judges at his audition.
The 23-year-old aspiring singer claimed that he had been in foster care since the age of four and was desperate to prove himself to his real parents.
"I'd just love it if they were to get in touch with me and to say they did want to see me," Alan explained on Saturday night's show. "I know it sounds a bit corny but I just want a real family - to know my real mam and real dad and just for them to say we love you no matter what."
The wannabe's father Alan Turner Snr has admitted that he is stunned by the story his son told on the show - as they spoke just five weeks ago.
"He has not been fostered. I have never signed any papers to have him fostered," Alan told
The Mirror
. "I was sat watching
The X Factor
when my son came on. I was shocked because I'd no idea he was on the show.
"I was even more shocked when I heard him say he had been fostered and wanted to find out who his real mum and dad were. I only spoke to him five weeks ago. I don't want to make a big deal about this because I don't want to cause problems for him - but the fact is he has told a lie. He's made himself look a bit of a clot."
Mr. Turner confirmed that he split from Alan's mother Debbie when his son was 18 months old and Alan was then brought up by his grandmother. Although they have not seen each other for five years, Turner claimed that he speaks to his son regularly on the phone.
"He calls me dad and always has. I'm baffled as to why he would say this in front of millions of people on telly," he said. "If he wants my support then I'm there."