Reality TV News
Louis: 'I miss Sharon Osbourne'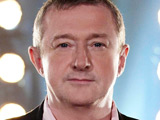 Louis Walsh
has claimed that he is missing working with Sharon Osbourne on
The X Factor
.
Speaking on
The Paul O'Grady Show
, Walsh mocked fellow judges Simon Cowell and Dannii Minogue, admitting he preferred the show when Osbourne was present.
"Simon couldn't control Sharon," he said. "She's a loose cannon, didn't care about him, said what she wanted and I loved that."
When asked about Cowell, the 56-year-old said: "He thinks it's his world - it's his world and we are all lucky to live in it.
"He is pompous, and he's arrogant and successful."
Joking about Minogue's use of Botox, he commented: "I remember buying her album years ago. She looks totally different now!"
Walsh only has one act remaining on this year's singing contest after losing girl groups Bad Lashes and Girlband in the opening two weeks.
> Click here for our interview with Girlband