Reality TV News
Fuller sues Cowell over 'X Factor'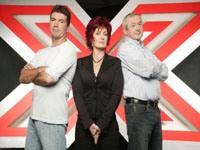 Pop Idol
creator Simon Fuller is suing Simon Cowell, claiming that his new reality show
The X Factor
is a "rip-off" of the Idols format.
Fuller's production company 19 TV today issued writs against Cowell, his production companies Simco and Syco, as well as co-pro firm Fremantle Media, for breach of copyright and contract.
"19 TV will be pressing for a speedy trial to resolve the matters as swiftly as is possible," said a 19 spokesman today.
According to the
Media Guardian
, 19 is preparing a video compilation to highlight alleged similarities between the two shows - including logo, music, camera angles and direction. It is also claiming that the way contestants exit the audition rooms is identical; the only difference being that instead of Ant and Dec waiting to greet them, it's Kate Thornton - host of ITV2's spinoff
Pop Idol
show.
The row could threaten the future of both
Pop Idol
and
American Idol
, where Cowell is contracted as a judge and Fremantle coproduces with 19.