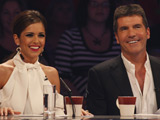 Simon Cowell
encouraged Cheryl Cole to vote against Lucie Jones on Sunday night's
X Factor
, a report has suggested.
According to sources quoted in
The Mirror
, the music mogul was keen to see the Welsh singer eliminated rather than twins John & Edward, but did not want to face the embarrassment of backing the brothers himself.
An insider said: "It seems Simon may have tried to get Cheryl to vote for the twins so he could save Lucie and then it could have gone to deadlock without him, or the show, losing any credibility.
"But Cheryl knows her own mind and didn't want to take the fall for him. She thought Lucie deserved to stay."
Jones was
sent home
in the latest results episode after Cowell failed to support her following her sing-off against John & Edward. As the judges' verdict had reached deadlock, the earlier viewer poll, which saw Lucie pick up the fewest votes, determined the 18-year-old's fate.
The newspaper has also claimed that Cowell is worried that he has "damaged his own reputation" by making the controversial choice.