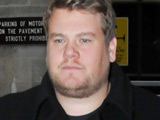 James Corden
has claimed that
X Factor
twins John & Edward should retire from the spotlight.
Speaking to
Sky News
at the National Television Awards last night, Corden said that the brothers should bow out from the public eye while they are still popular.
Asked if he was a Jedward fan, the
Gavin & Stacey
actor replied: "Not so much - not anymore. I think it's about time they just disappeared, don't you? I mean, we've all had our fun, now let's not milk it."
On how the duo might respond to his remarks, he said: "I'm sure they wouldn't have a clue who I am!"
John & Edward
performed
their new single 'Under Pressure (Ice Ice Baby)' at the NTAs last night. The track will be
available
for download on January 31.